SEATTLE RAMS



The Radio Aero Modelers of Seattle (RAMS) is the longest standing radio control model aviation club in the State of Washington and is over 60 years old.
Support Our Local Hobby Shop's
Please support our local Hobby Shops because they support us in our hobby as well as the Community. We should do the same by supporting them. Thank you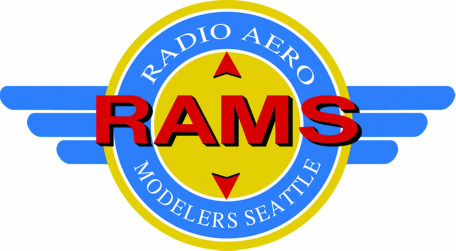 ---
Seattle Rams Address

3401 West Valley Hwy E
Summer Wa 98390


Rams Meeting
At
" Roundtable Pizza "

4002 A Street SE,Auburn
12/20/2015 at 7:00 pm

Christmas Party! The annual RAMS Christmas Party is scheduled for Tuesday, December 20th. It will be held at our usual meeting venue, Roundtable Pizza, 4002 "A" Street SE, Auburn, WA. The party will start at 6pm and go until we're done. There is no charge. The club will buy pizza and drinks for those that come. President Keith Leifsen is organizing the event and we've secured a number of great RC items to give away as door prizes. Don't miss out on the RC camaraderie, great pizza and a chance at some airframes and other RC gear. We will have several Twisted Hobbies foamies, a 3D Hobby Shop Little Foot, and many other items. We're still collecting donations from local hobby shops and anyone else that would like to chip in. Again, all is paid for, so no cost to you. Come and have some fun






Rams Field Filmed By D Man
Heli World


Airplanes and Members

2014

Christmas Party


National Model Aviation Day / Local Hobby Shop Appreciation Day /

Wounded Warrior Fund Raiser

The RAMS hosted their second annual National Model Aviation Day fund raising event for Wounded Warriors on August 16, 2014. This year, we combined our Local Hobby Shop Appreciation Day event and added a swap meet to the mix. We garnered nearly 150 spectators and pilots, the largest RAMS event in recent memory. There were numerous spectacular demonstration flights by helicopter and fixed wing aces from around the state. Demos included 3D fixed wing, 3D heli, WW1 and WW2 scale birds, a flying lawn mower and many more, even a flying chicken. Additionally, other pilots took advantage of the free fun fly on a beautiful sunny day. We appreciated the participation of our local hobby shops and raffle sponsorships by Valley View RC, Hobbytown, Aztech Aeromodels and RC Hobbies Covington. We also appreciated our military personnel, veterans and their families for the great sacrifices they've made on behalf of our freedoms. Almost $1000 was raised to support Wounded Warriors. Thank you all for a terrific event. – Rob Van Slyke, Event Coordinator


---
In Memory Of Stuart Kenneth Arestad

Stuart Kenneth Arestad Age 82, of Federal Way passed away on March 4, 2014. He was born on Sept. 2, 1931 in Monroe, WA. His parents were Trygve and Ethel (Cummings) Arestad. A graduate of Grant High in Portland Oregon, he joined the Air Force and while stationed in Germany met and married his wife of 58 years, Lydia Romana Maria (Greif) Arestad. After tours of duty in Greenland, Germany, England, and Montana, he was discharged in 1962 and began his civilian career with the federal government, ultimately retiring from PSNS as the Foreman of the Cryptographic Repair Facility in 1986. For the last 14 years he enjoyed his time working for ASI Transport in Des Moines, WA. When not spending time with family, he built and flew radio controlled model airplanes with the RAMS. He was a Ham Radio Operator (W7OQQ) and member of the Quarter Century Wireless Association (QCWA) as well as a member of American Legion Post 110. Besides his wife Lydia Romana Maria Arestad of Federal Way, he is survived by his daughters, Sheila Arestad and Tamara (David) Larson; grandchildren, Jennifer (Ryan) Kilgore and Anders (McKaslyn) Larson and great grandchildren, Liam and Jude Kilgore. He was preceded in death by his parents, infant daughter, Janet, and siblings, Boyd Arestad and Dale Laughlin. The funeral Service was held March 14, 2014 at Price-Helton Funeral Home in Auburn, WA. He was interred at Tahoma National Cemetery. Stu was a kind, honest person and dedicated, loving husband and father who will be missed. Donations may be made in his memory to the Paralyzed Veterans of America or Disabled American Veterans.



In Memory of
"Honest John" Rowlett
March 25,1945 to September 10,2014




This is John's Dedication that was held at Rams Field on

Saturday May 9th at 10am



Ex-major league and Snohomish star Earl Averill Jr. dies

Originally published May 14, 2015 at 6:55 pm Updated May 14, 2015 at 8:27 pm



Earl Averill Jr., a Snohomish High School graduate and a seven-year major league veteran, died Wednesday in Tacoma. He was 83. Averill is the son of Baseball Hall of Famer Earl Averill. Section Sponsor By Adam Jude / Seattle Times staff reporter Earl Averill Jr., a Snohomish High School graduate and a seven-year major league veteran, died Wednesday in Tacoma. He was 83. The Mariners scheduled a moment of silence in Averill's honor just before the start of Thursday's game against the Red Sox. Averill is the son of Baseball Hall of Famer Earl Averill. Averill Jr., one of the most prolific hitters in University of Oregon history, was the Ducks' first All-American. He hit .439 as a sophomore in 1951 and was a three-time Pacific Coast Conference All-Northern Division selection. He was inducted into the Oregon Hall of Fame in 1997. At the end of his college career, the Cleveland Indians, the team for which his father had starred for 11 years, invited Averill Jr. for a tryout and "I jumped at the opportunity," he said in a 2013 radio interview. "My wife had no clue that I was interested in playing baseball (professionally)." He made his major-league debut for Cleveland in 1956 and went on to play for the Chicago Cubs, Los Angeles Angels and Philadelphia Phillies, mostly as a catcher. "He was a really good storyteller," his son, Randy Averill, said. "To him, it was never about the baseball, but more about the people. Dad loved his teammates and his opponents." Averill Jr. had his best major-league season with the expansion Angels in 1961, when he hit .266 with 21 home runs and an .873 on-base-plus-slugging percentage. He remains part of baseball trivia lore: In 1962, he tied a major-league record by reaching base in 17 consecutive at-bats — a record he shares with Piggy Ward, who set that mark in 1893. He recalled that one his at-bats in that record streak was an error by Hall of Fame third baseman Brooks Robinson. "He made the only error he made in 10 years on a gimmie," Averill Jr. said jokingly. Toward the end of his career, Averill Jr. played minor-league ball with the Seattle Rainiers (1964) and Seattle Angels (1965). He became an avid Mariners fan and was "really optimistic" about the team this year, Randy Averill said. After baseball, Averill Jr. worked as a computer programmer, salesman and business consultant. He and his wife, Pat, also ran an upholstery business out of their Auburn home. Averill Jr. is survived by his wife of 63 years and their four children, 12 grandchildren and 11 great-grandchildren.
Seattle Rams

The Radio Aero Modelers of Seattle (RAMS) is the longest standing radio control model aviation club in the State of Washington and is over 60 years old. The club started in the 1950s and has moved from site to site over the years, never having owned property of its own to plant permanent roots. Nevertheless, RAMS members have enjoyed the use of the current leased site for over 20 years. As such, we have become an integral part of the ecosystem on this site inhabited by many species of fowl and small animals.
The RAMS is a registered non-profit organization and is under the umbrella of the Academy of Model Aviation (AMA), the national organization that governs the hobby. The RAMS is a chartered member of the AMA. Each RAMS member is also a registered member of the AMA.

The RAMS serves a wide range of ages and backgrounds, from youth to seniors, educators, engineers, doctors, laborers, mechanics, students, males, females; you name it. We fly model aircraft of all types including fixed wing airplanes ranging from a few ounces in weight and 15 inch wingspans up to 40+ pounds with wingspans as large as 12 feet. They are powered by electric motors, glow fuel engines and gasoline engines ranging in size from a fraction of a horsepower to as much as 20+ horsepower. We also fly helicopters and multi-blade vehicles of various sizes and shapes.

---